Bed Bath & Beyond is a popular store for home decor, furniture, kitchen, and more home essentials. They are well known for the Bed Bath & Beyond 20 off coupon and offering a range of other deals on their items. However, it can also be hard to figure out where to apply a coupon when you are shopping online. 
In this short article, we are going to go through the different different types of Bed Bath & Beyond coupons, where you can find them, how they work, and finally, how you can use one. If you are looking to save money on your next purchase online then keep reading!
Don't forget to also check out How to Save Money at Bed Bath & Beyond | The Ultimate Savings Guide.
Where Can I Find Bed Bath & Beyond Coupons?
Before we get into how to use a coupon, we have to go over where you can find the latest working Bed Bath & Beyond coupons. 
One popular way to get a coupon is to join the email newsletter. All new users will receive a Bed Bath & Beyond 20 OFF coupon when joining the mailing list. This will be valid for 24-hours and one-time use. You may also receive coupons sent to your email when there are special promotions, but this is rare. Join the email newsletter here. 
The other way you can find Bed Bath & Beyond promo codes is to check out coupon websites. There a number of different websites that offer the latest coupons and a simple Google search will return the best results. It depends on the website but some coupons might not work so it's best to check multiple sites.
You can also receive coupons for 20% off sent to your home and via text if you prefer. Just sign up via the forms below:
How Many Bed Bath and Beyond Coupons Can I Use?
If you have a big order to place and multiple coupons to use, it makes sense that you would want to use them all in one go. The good news is that Bed Bath & Beyond does accept multiple coupons and they will also accept expired coupons. 
However, there are some catches. Whilst you can use multiple coupons at Bed Bath & Beyond, you cannot apply them to the entire order. You must apply the coupons directly to one single item. For example, if you have 5 x 10% off coupons, you would have to apply 10% to every single item.
If you cannot apply multiple coupons online, then try to make separate orders and apply each coupon to each order. This can be long-winded but it can still save you money. Just remember to factor in shipping costs.
How To Use Bed Bath and Beyond Coupons Online
So now you have your Bed Bath & Beyond coupon ready to use, how do you actually apply it online?
Now in order to apply a Bed Bath & Beyond coupon online, you must have signed up for My Offers or have a paper coupon. It doesn't cost anything to sign up, only 2 minutes of your time. 
Let's get into how to use Bed Bath & Beyond coupons online.
Join My Offers
Sign up for My Offers here where you can manage all of your coupons conveniently. You can also head to the bottom of the website and click "sign up for coupons".
You will then be redirected to the page where you can sign up for My Offers. This is very simple and takes seconds to complete.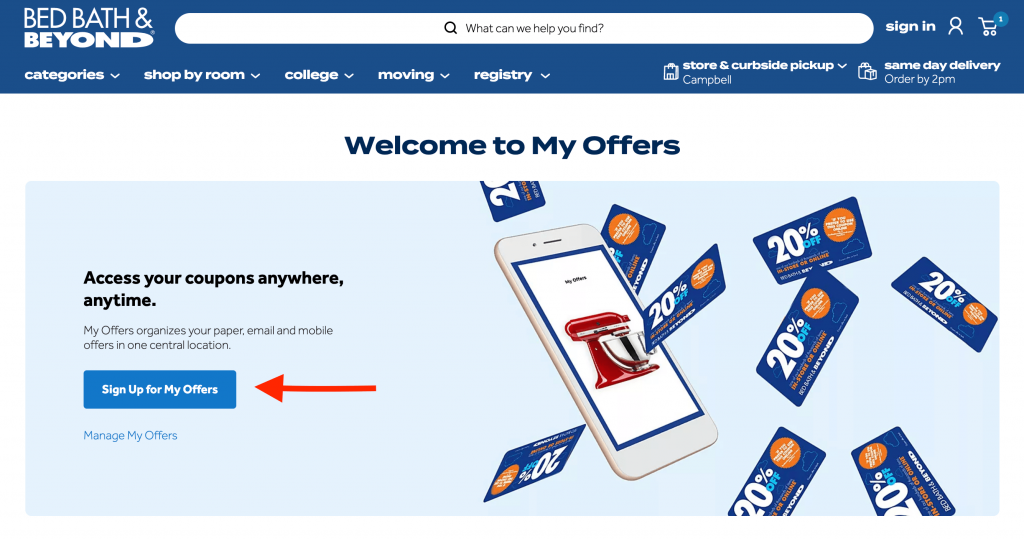 Once you have registered for My Offers you can then view your coupons and upload paper coupons online. This is the only way you can use a Bed Bath & Beyond coupon so make sure you join. 
Shop For Items
Once you have added your items to the cart and have finished shopping, hit the cart button at the top. 
You will then be redirected to the order summary page where you can see all the items in your cart.
On the right, you can see a large tab that says "Apply Coupons" which you can click on.
Apply Coupons
Once you have clicked apply coupons, you will have the option to enter your email or phone linked to the My Offers account OR to enter a paper coupon code. 
There is currently no option to add other coupon codes in circulation.
This article contains affiliate links. This means we may get a commission if you decide to purchase anything from the links in the article.  This article was, however, written with knowledge, research, and a passion for saving money. Published by Dealorium coupons & deals.
Bed Bath & Beyond is a popular store for home decor, furniture, kitchen, and more home essentials. They are…
Now that kids are growing up in a technology era, it's common to have smartphones and tablets at a young…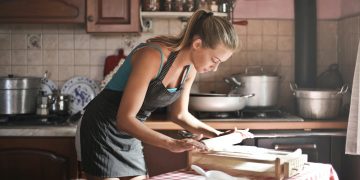 Every day millions of Americans spend hours cooking and preparing meals in the kitchen. Some people enjoy it…