One essential component that often gets overlooked but can make a world of difference when gaming is a high-quality gaming keyboard. Whether you're a seasoned gamer or just getting started, having the right keyboard can greatly enhance your gameplay, responsiveness, and overall enjoyment. Unfortunately, some of the top range models can set you back $1,000's and that's why we have the 5 best gaming keyboards under $100.
Now, you might be wondering, what exactly were the key factors we considered when choosing these keyboards? We took several important aspects into account, such as durability, responsiveness, customization options, build quality, and overall value for money. Our goal was to find keyboards that strike a perfect balance between performance and affordability, ensuring you get the most bang for your buck.
Mechanical vs. Membrane Keyboards
When it comes to gaming keyboards, one of the first decisions you'll need to make is choosing between a mechanical or a membrane keyboard. Understanding the difference between these two types will help you make an informed decision based on your gaming preferences and budget.
Mechanical Keyboards:
Mechanical keyboards are known for their tactile feedback and satisfying key presses.
They use individual mechanical switches underneath each key, resulting in precise actuation and a distinct feel.
Mechanical switches are available in various types, such as Cherry MX, Razer, and more, each offering unique characteristics like clicky, tactile, or linear responses.
These keyboards tend to have a longer lifespan and are more durable than membrane keyboards.
Mechanical keyboards are popular among gamers who require precise key inputs and enjoy the satisfying typing experience.
Membrane Keyboards:
Membrane keyboards utilize a rubber dome or membrane beneath the keys.
They rely on the compression of these membranes to register key presses.
Membrane keyboards are typically quieter and more affordable compared to mechanical keyboards.
While they may not offer the same level of tactile feedback and durability as mechanical keyboards, they can still provide a comfortable gaming experience.
Membrane keyboards are often preferred by casual gamers or those who prioritize a softer typing feel.
Ultimately, the choice between mechanical and membrane keyboards comes down to personal preference. Mechanical keyboards tend to be pricier, but they offer superior tactile feedback and durability. On the other hand, membrane keyboards provide a more budget-friendly option without sacrificing overall functionality.
Key Features to Consider
Before we delve into our top picks, let's take a moment to discuss the key features you should consider when selecting a gaming keyboard. These features can greatly impact your gaming performance, comfort, and overall satisfaction with the keyboard.
Switch Type:
The type of switches used in a keyboard greatly influences the typing experience and responsiveness.
Mechanical keyboards offer a variety of switch options, such as Cherry MX, Razer, or Gateron switches, each with its own characteristics.
Switches can be categorized as clicky (audible click and tactile feedback), tactile (tactile feedback without the click sound), or linear (smooth keystrokes without tactile feedback).
Consider your gaming preferences and typing style to determine the most suitable switch type for you.
Backlighting and RGB Customization:
Many gaming keyboards feature backlighting, allowing you to game in low-light conditions or add a touch of visual flair to your setup.
RGB backlighting offers the ability to customize the lighting effects, colors, and patterns, creating an immersive gaming atmosphere.
Look for keyboards with intuitive software that allows you to easily customize the lighting to match your style or synchronize it with other RGB peripherals.
Anti-Ghosting and N-Key Rollover:
Anti-ghosting technology ensures that each key press is accurately registered, even when multiple keys are pressed simultaneously.
N-Key rollover (NKRO) enables unlimited simultaneous key presses, which is crucial for gamers who need to execute complex commands or combos without any input limitations.
Programmable Macros and Dedicated Media Controls:
Some gaming keyboards offer programmable macro keys, allowing you to assign custom commands or macros for quick access during gameplay.
Dedicated media controls, such as volume adjustment and media playback keys, provide convenient access to multimedia functions without interrupting your gaming session.
Build Quality and Durability:
A sturdy and well-built keyboard ensures longevity and reliability, withstanding the intense gaming sessions.
Look for keyboards with durable materials, reinforced keycaps, and a solid frame to ensure longevity even with frequent use.
Ergonomics and Wrist Rest:
Ergonomic design, including wrist rests and adjustable keyboard angles, can enhance comfort and reduce strain during long gaming sessions.
Consider keyboards with detachable wrist rests or built-in ergonomic features to support a more comfortable gaming posture.
Top 5 Gaming Keyboards Under $100
Here are our top five picks for gaming keyboards under $100. These keyboards deliver impressive features, reliability, and excellent value for your hard-earned money… in no particular order:
Redragon K552 Mechanical Gaming Keyboard
Key Features: Tenkeyless design, tactile mechanical switches, full N-key rollover, splash-resistant design.
Pros: Responsive and precise keystrokes, compact and portable, vibrant RGB lighting options.
Cons: Lack of programmable macros.
Price Range: $40-$50.
The Redragon K552 Mechanical Gaming Keyboard is a compact and efficient keyboard designed for gamers who prioritize functionality and performance. Its tenkeyless (TKL) design eliminates the number pad, allowing for a more compact and space-saving layout.
Featuring dust-proof mechanical switches, the Redragon K552 offers a quiet and responsive gaming experience. The linear switches provide a smooth keystroke without a tactile bump, resulting in fast action with minimal resistance. This makes it ideal for gamers who prefer a quiet click sound and precise keystrokes.
With its vibrant rainbow LED RGB backlighting, the Redragon K552 adds a visually appealing element to your gaming setup. With 19 different lighting effects and game modes, including 2 user-defined modes, you can personalize your keyboard to match your style. The precision-engineered keycaps ensure crystal clear and uniform backlighting across the keyboard.
Durability is a key feature of the Redragon K552. Its ergonomic design and high-quality metal-ABS construction make it a reliable choice even during long gaming sessions. The plate-mounted mechanical keys and switches are built to withstand intense use, ensuring durability and longevity.
The Redragon K552 offers anti-ghosting technology, ensuring that all 87 keys are conflict-free and can be pressed simultaneously. This feature is essential for gamers who require precise and accurate keystrokes during intense gameplay. Additionally, the keyboard includes 12 multimedia keys for convenient control and a non-slip ergonomic, splash-proof design for added comfort and protection.
Compatibility is not an issue with the Redragon K552. It is compatible with Windows 10, Windows 8, Windows 7, Windows Vista, and Windows XP. While Mac OS support is limited, it works well with all major computer brands and gaming PCs. The keyboard also comes with a gold-plated high-speed USB connector, ensuring a reliable and corrosion-free connection.
SteelSeries Apex 3 Gaming Keyboard
Key Features: Membrane switches, RGB backlighting, IP32 water resistance, dedicated media controls.
Pros: Quiet and responsive keys, spill-resistant, customizable lighting effects.
Cons: Non-detachable wrist rest.
Price Range: $70-$80.
The SteelSeries Apex 3 RGB Gaming Keyboard is a feature-packed keyboard designed to enhance your gaming experience. With its IP32 water-resistant rating, it provides protection against accidental liquid spills, ensuring durability and longevity.
It displays vibrant colors with its 10-zone RGB illumination and you can create stunning color schemes and enjoy reactive effects that enhance the visual appeal of your gaming setup.
Experience whisper-quiet gaming with the specially designed switches of the SteelSeries Apex 3. These switches offer nearly silent use, allowing for an undisturbed gaming experience. With a lifespan of 20 million low friction keypresses, they are built to withstand countless gaming sessions.
This gaming keyboard is not only under $100, but the SteelSeries Apex 3 comes with a premium magnetic wrist rest, providing full palm support and comfort during extended gaming sessions. The ergonomic design helps alleviate strain and fatigue, allowing you to focus on the game without discomfort.
You can also take control of your multimedia experience with the dedicated multimedia controls of the SteelSeries Apex 3. Adjust volume, playback, and settings on the fly, without interrupting your gameplay. These convenient controls offer easy access to essential functions, enhancing your overall gaming convenience.
HyperX Alloy Origins Core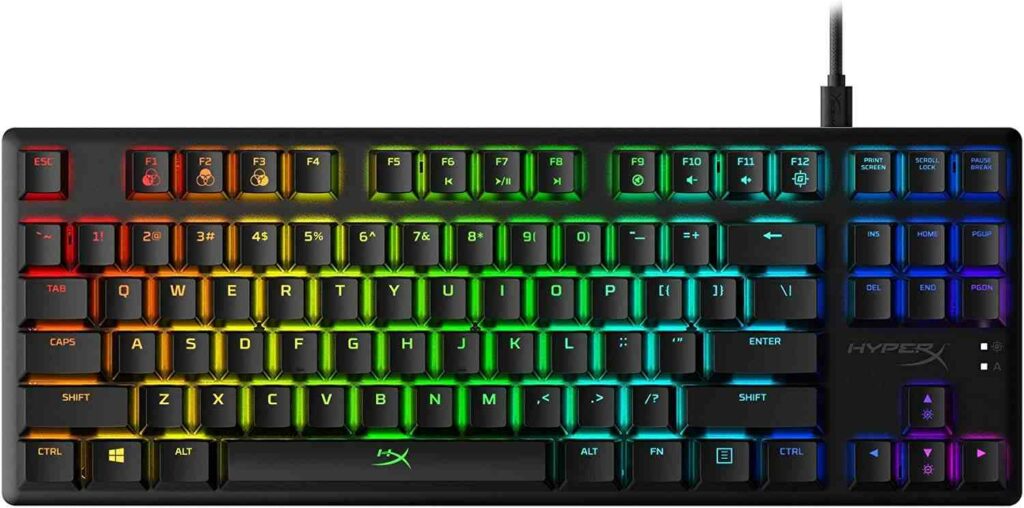 Key Features: Tenkeyless layout, Cherry MX mechanical switches, red LED backlighting, detachable cable.
Pros: Durable and solid construction, responsive and accurate key presses, detachable cable for portability.
Cons: Loud keys
Price Range: $70-$80.
The HyperX Alloy Origins Core is a tenkeyless mechanical gaming keyboard that offers exceptional performance and customization options. Built with HyperX Mechanical Switches, these switches are rated for an impressive 80 million keystrokes, ensuring long-lasting durability and reliability.
Crafted with a full aircraft-grade aluminum body, the HyperX Alloy Origins Core exudes a premium look and feel. The sturdy construction not only enhances its durability but also provides a solid and stable typing experience. This keyboard is built to withstand intense gaming sessions and is designed to last.
Designed for portability and convenience, the HyperX Alloy Origins Core features an ultra-compact form factor. Its tenkeyless design eliminates the number pad, making it more compact and portable. Additionally, the detachable cable adds to its portability, allowing you to easily pack and transport it wherever you go.
The dazzling RGB lighting of the HyperX Alloy Origins Core adds a vibrant and dynamic element to your gaming setup. With a wide range of colors and dynamic effects to choose from, you can create stunning lighting displays that match your style and mood. Immerse yourself in a visually captivating gaming environment.
The advanced HyperX Ngenuity software allows you to personalize and fine-tune your keyboard settings, including lighting effects, macros, and more. Customize every aspect of your gaming experience to suit your preferences and create a truly unique setup.
Razer Cynosa Chroma Pro Gaming Keyboard
Key Features: Membrane switches, individually backlit RGB keys, spill-resistant design, programmable macros.
Pros: Quiet and comfortable typing experience, vibrant RGB lighting, programmable macros.
Cons: Limited customization software features.
Price Range: $50-$100.
The Razer Cynosa Chroma Pro Gaming Keyboard is a top choice for gamers seeking a customizable and immersive gaming experience. As the #1 Best-Selling Gaming Peripherals Manufacturer in the US, Razer has a proven track record of delivering high-quality gaming devices.
Featuring customizable Chroma RGB lighting with underglow, the Razer Cynosa Chroma Pro allows you to personalize your gaming setup with vibrant and dynamic lighting effects. With individually backlit keys, you can create stunning lighting configurations that synchronize with popular games, Razer hardware, Philips Hue, and gear from over 30 partners. With support for 16.8 million colors, you can truly immerse yourself in a visually captivating gaming environment.
This gaming keyboard is designed to withstand accidental liquid spills, thanks to its spill-resistant design. This feature provides peace of mind during intense gaming sessions, as the keyboard is built to handle most liquid splashes without compromising its functionality.
Equipped with Razer's Hypershift technology, this gaming keyboard offers fully programmable macros. You can remap all keys and keypress combinations to execute complex commands effortlessly. This level of customization enhances your gaming performance and allows you to tailor the keyboard to your specific needs and playstyle.
Built to last, the Razer Cynosa Chroma Pro is constructed with durability in mind. It supports up to 80 million clicks, ensuring long-lasting performance even during intense gaming sessions. Additionally, it comes with a 2-year manufacturer warranty, providing further assurance of its quality and reliability.
Logitech G413 Carbon Gaming Keyboard
Key Features: Mechanical switches, customizable red backlighting, brushed aluminum frame, USB passthrough.
Pros: Sleek and sturdy design, responsive key switches, convenient USB passthrough.
Cons: Limited RGB lighting options.
Price Range: $70-$80.
The Logitech G413 Backlit Mechanical Gaming Keyboard is a reliable and high-performance choice for gamers seeking precision and durability. Featuring the Romer-G mechanical switch, this keyboard is purpose-built to deliver pro-grade performance with excellent responsiveness and long-lasting durability.
One standout feature of the Romer-G switch is its ability to provide precise and clean lighting through the keycap. This ensures that the keys are always visible without being distracting, even during late-night gaming sessions. You can fully immerse yourself in your gameplay without compromising on visibility.
With the Logitech G413, you also get the convenience of an additional USB cable and a USB pass-through port. This allows you to connect your devices directly to the keyboard for 100% power throughput and optimal data speed. Whether you need to charge a device or connect a mouse, you can do so without sacrificing performance.
The keyboard features full function keys (FN) that provide easy control over volume, playback, track skipping, muting, lighting toggling, and more. This allows you to conveniently adjust settings and access various functions without interrupting your gaming experience.
Built with a brushed aluminum-magnesium alloy top case, the Logitech G413 strikes a perfect balance between a minimal design and a full set of features. The durable construction not only adds to its aesthetics but also ensures long-term reliability.
Final Savings
Finding a high-quality gaming keyboard under $100 is definitely possible. We've explored the key factors to consider when selecting a gaming keyboard and presented our top five recommendations, each offering a unique set of features to enhance your gaming experience.
Remember to consider factors such as switch type, backlighting, anti-ghosting, programmable macros, build quality, and ergonomics when making your decision. Think about your personal preferences and gaming style to find the keyboard that suits you best.