Now that kids are growing up in a technology era, it's common to have smartphones and tablets at a young age. It could be a tablet for education, watching TV shows, or playing games, there are plenty of reasons your kid might want a tablet. Unfortunately, the best tablets can set you back a minimum of $700, which is far too expensive for a kid's tablet.
If you were to go out and purchase the latest Apple iPad you would be looking at a $1,000 and the same with top Samsung models. You also don't want to go for old and cheap models of these brands because they will be efficient enough, especially if used for education.
We created this list of cheap tablets for kids to help parents find affordable options that are also reliable.
What is a Good Tablet for Kids?
When you are looking for a tablet for your kid, you want to make sure that it is capable of performing the tasks you need it to. The tablet also needs to either be rugged or have a protective case to prevent damage and of course, be affordable.
There is actually research that proves tablets are good for learning which may help your decision to purchase a tablet for your child. They are not only useful for education but kids actually want tablets and find great entertainment with them.
1: Contixo Kids Learning Tablet
$99.99 at Walmart
V8-3 Android
16GB
8.1"
Bluetooth & Wi-Fi
This tablet is specifically designed for younger kids such as infants and toddlers. It is cheap, durable, and has child lock features which are perfect for kids.
We have noticed this tablet goes on sale often with up to $25 off at Walmart. So always keep an eye out for the sale price. You will also find that this kids tablet comes pre-loaded with a bunch of award-winning educational apps. It has up to 10 hours of battery life with plenty of storage space for the apps.
The Contixo Kids Tablet also comes pre-built with a protective case to prevent any accidental damage that we all know kids can cause! If there happen to be any faults with the tablet you will also be covered with a 12-month warranty.
2: Refurbished Apple iPad Mini
$149.98 at Walmart
7th Generation
32GB
Wi-Fi
We added this Apple iPad to the list because there is no denying how useful iPads can be for kids at school. iPads have a very easy-to-use interface and come with a range of features to help with learning in addition to the huge number of apps on the app store.
This kid's tablet would be more suited to a young teen or a child older than an infant. We do recommend that you purchase a protective case as the Apple iPad is known for breaking easily. Nevertheless, this iPad has plenty of storage and you will have access to a range of apps for learning, streaming, games, and more.
This model at Walmart does actually come with a screen protector which is also useful. But if you are looking for a kids tablet and want to choose the Apple iPad, always check refurbished first for cheaper prices.
3: Refurbished Apple iPad
$329.95 at Walmart 
32GB Storage
Wi-Fi
7th Generation
10.2 Inch Display
If you are looking for a kid's tablet that has a larger display and more capabilities then the Apple iPad 7th gen is a good choice. Again, we don't recommend this tablet for infants and toddlers unless absolutely necessary.
Like all Apple iPad models, you will have access to the app store which has thousands of educational apps, streaming apps, and also games. You can also add parental controls to the device to keep your child protected when surfing the web, downloading apps, and using the device.
This cheap tablet for kids can be useful for education and entertainment. The iPad has great note-taking abilities and it is fast & reliable enough to use in class. It is also useful to use to watching TV and movies.
4: Fire HD 10 Kids Edition Tablet
$139.95 at Amazon
10.1" Display
1080p HD
32GB Storage
The Fire HD 10 Kids Edition Tablet is specifically designed for kids with its childproof case and built-in apps.
Designed by Amazon, this tablet includes a 1-year subscription to Amazon Kids+ and a 2-year warranty, which is better than most tablets. There is 32GB of built-in storage but it does include a memory card slot where you can extend the maximum memory if needed. The protective case comes with the tablet and is rugged to prevent damage that kids may cause.
A great feature of the Fire HD 10 Kids Edition Tablet is the remote control app you, as parents, can use. It allows you to set parental controls, monitor usage, set time limits, and even set educational goals.
5: Fire 7 Tablet
$39.99 at Amazon
7" Display
32GB Storage
7 Hour Battery Life
This tablet is probably one of the most affordable kid's tablets out there. You shouldn't expect fireworks but for $49.99 it will certainly get the job done for a kid's tablet.
You will find that this tablet comes with a camera, SD card slot, and microphone slot. There is also the option to sign up for Amazon Kids+ to access educational content such as books, movies, and TV shows. This tablet can be reliable for education and entertainment but not likely for gaming.
Unlike some of the other kid's tablets on the list, this one is not specifically designed for kids but it is basic and affordable, making it a good option. That also means that you won't have a pre-built case and would need to purchase protective accessories for the tablet.
6: Samsung Galaxy Tab A 8.0″
$123 at Amazon
Wi-Fi
2019 Verison
8" Display
There are a majority of Samsung tablets that are too expensive to buy as a kids tablet. However, this is one of the more affordable ranges of Samsung tablets and is perfect for a kids tablet.
You can enjoy up to 13-hours of battery life and a brightly colored display on this tablet which is perfect for content and learning. Again, you can upgrade the storage on this tablet in case you need more space for music, games, apps, or movies. There is also the option to download thousands of apps for whatever your needs are.
Whilst it might be an older version of a tablet from Samsung, it is still high-performing and makes a perfect kids tablet.
7: VANKYO MatrixPad Z1
$69.99 at Amazon
3GB RAM
32GB Storage
Camera & 5G
This is one of the most highly rated tablets on Amazon due to its performance, reliability, features, and price. This might not be just a cheap tablet for kids but also for adults too.
The tablet has a fast processor and memory which allows functions and apps to run smoothly. It has a high-quality camera on the rear and has a full HD display. There are many more features that make this tablet a great purchase and that's without even mentioning the low price tag.
It has Google Assistant built-in, comes with a wide-screen display, and also has up to 15-hours of battery life which is incredible. This doesn't necessarily need to be a kids tablet, however, it is very affordable and worth the money for the features/specs you get.
8: Lenovo Tab M10 Plus
$129.99 at Amazon
10.3" Display
Full HD
32GB Storage
Lenovo is a brand that is not really considered when it comes to tablets but it should be. These tablets are affordable, reliable, and perform very well.
The Tab M10 Plus starts with 2GB Ram and 32GB storage but you can actually pay more to upgrade this if needed. Although, for a kid's tablet, this is probably not needed. As with all tablets, you will be able to download apps and fill up the tablet with useful educational apps and others. 
This article contains affiliate links. This means we may get a commission if you decide to purchase anything from the links in the article.  This article was, however, written with knowledge, research, and a passion for saving money. Published by Dealorium coupons & deals.
Now that kids are growing up in a technology era, it's common to have smartphones and tablets at a young…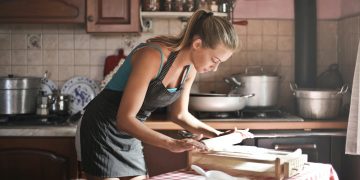 Every day millions of Americans spend hours cooking and preparing meals in the kitchen. Some people enjoy it…
The Apple Watch Series comes in with one of the highest price tags in the industry and the shortest battery…