Every day millions of Americans spend hours cooking and preparing meals in the kitchen. Some people enjoy it and some do it because they have to. We put together a list of Amazon kitchen gadgets to make that experience easier for everyone. 
Whether you cook for fun or just go with the flow, these items are sure to make your experience easier. Each item in the list has been independently selected by one of our team members and all pricing is correct at the date of publication. 
1: COVAODQ Dish Drying Rack – $75.99
Whether you have a dishwasher or not, everyone needs a space to dry their dishes & pans. In fact, some people lay out a cloth or just put their dishes on the kitchen counter. This product can solve all your dish drying needs.
There are some drying racks out there that are bulky and look unpleasant in your kitchen but this one has a unique design that doesn't take up too much space. The design allows for various sections that can hold sharp knives, plates, bowls, and utensils. This allows you to neatly separate everything and allow it to dry. 
The best feature about this product is that it hangs over the sink. That means no water dripping all over the side/floor and no water tray underneath which harbors bacteria. 
2: Dishwashing Soap Dispenser – $9.99
Dish soap bottles can look untidy, get clogged, and you can use too much when washing the dishes. With this dishwashing soap dispenser, you can have a nice tidy container that dispenses soap straight onto the sponge. 
It might not seem like the most useful product in the kitchen however, it is very convenient when washing dishes and doesn't look ugly like a soap bottle does. With this dispenser, you can pick up and start washing dishes instantly, and then put the sponge back when you're done ready for next time. 
The product is BPA free and holds around 12 ounces. For $9.99 you can't go wrong.
3: Whisk Wiper Multipurpose Kitchen Tool – $16.95
Have you ever whipped up some batter for a cake, cleaned the whisk, and then noticed the next time you come to use it that it still has cake batter on it?
We all have, those whisks are VERY hard to clean with a normal cloth or sponge. That is until this whisk wiper came along to save the day. This cleaner gadget will fit right over the end of the whisk and clean every inch of it, with nothing left behind.
You do have the option of purchasing the whisk wiper individually or purchasing a whisk set with a wiper included. The description does also state that it will not fit every whisk, so please check the measurements before ordering. 
4: XSpecial Meat Tenderizer Tool – $22.99
If you enjoy preparing meats and having a feast then you are going to want this product in your life. In fact, this product is that great that the brand offers a money-back guarantee and would even pay for your return shipping.
Instead of using a meat mallet to crush your meat, this tool actually uses thin blades to penetrate the meat without destroying it. The claim is that it makes your meat more juicy and succulent. You will find many product videos and reviews on the item which can give you more of an idea about the product. 
We highly recommend this meat tenderizer for your Amazon kitchen picks in 2021.
5: Snap N Strain Strainer Clip On Silicone Colander – $16.99
This is one of our favorite Amazon kitchen must-haves and there is a good reason. We all know how tricky and dangerous it can be to drain pasta or anything you boil. Well, that has all changed. 
This awesome Snap N Strain Strainer Clip On Silicone Colander has revolutionized the way we drain boiling water. The silicone attachment clips to your pan and allows you to drain the water while catching all the food and preventing any food loss. It can be done with one hand, is very cheap, and can stop you from spilling boiling water on yourself.
For $16.99 there really is no reason why you shouldn't have this product as a part of your kitchen gadgets. Oh, and did we mention that it also fits onto pans?
6: Greenco Fridge Bins Stackable Storage Organizer Containers – $30
How many times have you opened the refrigerator door to an unorganized mess, then struggled to find the half-eaten burrito you saved for lunch?
We present the Greenco Fridge Bins Stackable Storage Organizer Containers coming in at $30 to solve all your problems. We have all seen some pretty unorganized refrigerators and that leads to mold, bacteria, food going bad, and wasting money.
When you purchase these storage containers for your fridge, you can neatly organize each food item and stack everything in a neat way inside. This helps you to keep your food organized, save money, and keep everything clean.
7: KIBEE Draining Rack Stainless Steel Roll Up Over The Sink Drainer – $15.97
Some sinks can be really dirty and when you prepare fruit & vegetables, you don't want them covered in bacteria. The KIBEE dish rack can help with that problem. 
This product is a mat that can be rolled up and has small stainless steel bars that run across the middle. It allows the mat to be placed over the sink to create a sturdy surface that can be used for multiple things. 
You can wash and drain food items over the rack, place boiling pans to avoid damaging the counter, prepare other food to avoid spilling on the counter, and pouring liquids. It is a unique item and can change the way you prepare your food for good.
At just under $16, you should definitely have this in your kitchen gadget lineup.
8: Bloss Anti-skid Jar Opener Jar Lid Remover Rubber Can Opener – $8.99
Another one of our favorites on the list is this jar opener gadget. Everyone at some point in their lives will come across that one jar that refuses to be opened. You can even take it to superman next door and it still won't budge.
Whether you want to show off your muscles or just need help opening jars, you are going to want this Bloss Jar Opener tool in your kitchen. The rubber tools grip each side of the lid and allows you to twist the lid with ease, applying force on the handles of the tool rather than the jar.
You will no longer need to use an old rag, smash jars, and throw away those stubborn jars that just will not open. We highly recommend this product for everyone's kitchen.
9: Tomorrow's Kitchen Silicone Utensil Rest – $9.99
It can get frustrating how dirty your kitchen counter becomes when cooking a simple meal. This silicone utensil rest can help with that. 
It is a small silicone mat that has slots to lay your utensils in when clean or dirty. It's a simple, yet very effective product that can save you from having to clean your counters every night. Once you have stirred your sauces or food, the spoon can go straight onto this mat which can then be easily wiped after. 
The Tomorrow's Kitchen Silicone Utensil Rest is a very inexpensive product that is a kitchen must-have. 
10: Fullstar Mandoline Slicer Spiralizer Vegetable Slicer – $19.97
These vegetable slicers have been around for a while now but there's a reason they are so popular and we had to include them in our Amazon kitchen picks.
This kitchen gadget has changed the way vegetables and fruit are prepared with a simplistic and more automated method of slicing. The container has multiple attachments for different slicing methods and you can run the food item over the top to slice easily as the pieces fall into the container. 
If you spend hours slicing and peeling food every week then you need to invest in one of these. You won't realize the time and effort it can save you until you actually use it. 
This article contains affiliate links. This means we may get a commission if you decide to purchase anything from the links in the article.  This article was, however, written with knowledge, research, and a passion for saving money. Published by Dealorium coupons & deals.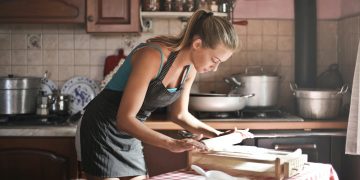 Every day millions of Americans spend hours cooking and preparing meals in the kitchen. Some people enjoy it…
The Apple Watch Series comes in with one of the highest price tags in the industry and the shortest battery…
UGG is one of the world's most popular brands. They sell a range of fashion items for men and women but are…